Would you like to go camping, but you dont want to take all that gear with you? No problem, we have two types of cabins for four or even for eight people and we have a Chalet for Four people, for you to rent.
---
Cabin for four persons.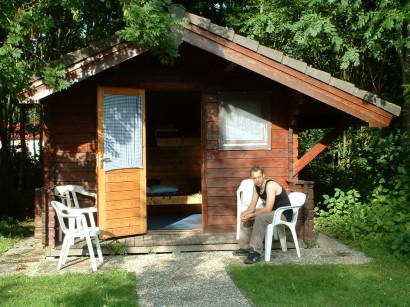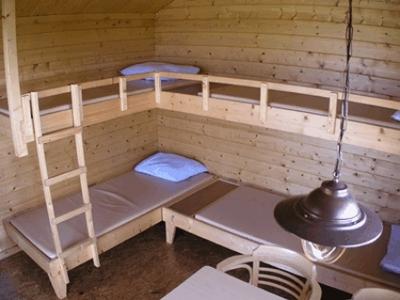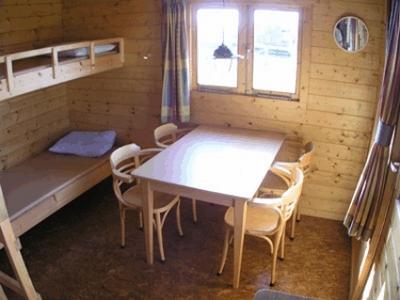 On our site there are three huts, each accommodate up to a maximum of four people. Beautifully situated between the trees and near our canoe harbor, these huts are perfect for canoeists. But also for cyclists and hikers. Each cabin is sober yet completely equiped, among other things you'll find an electric cooker, crockery and cutlery, and a sink with (cold) tapwater, yes, even a coffee machine is present. Toilets and showers can be found in the shower blocks.
Don't forget to bring a sleeping bag, pillow cover, linen etc!
In cold times it's possible to hire a heater.
---
Cabin for eight persons.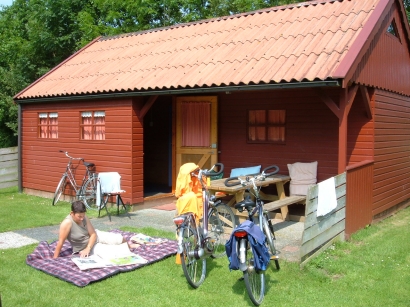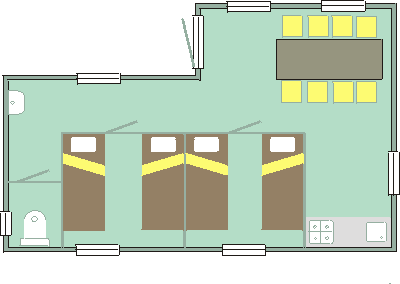 We also have three cabins for up to a maximum of eight people. These huts have two separate bedrooms with bunk beds, and a lounge with walk-in kitchen. There is also a toilet and sink (cold water only). The kitchen is fully equipped with gas cooker (4 rings) refrigerator, pots and pans, crockery and cutlery, and a coffee machine. Showers can be found in the nearby shower block.
Don't forget to bring a sleeping bag, pillow cover, linen etc!
---
Chalet 4 personen.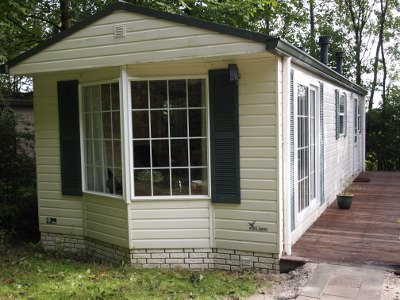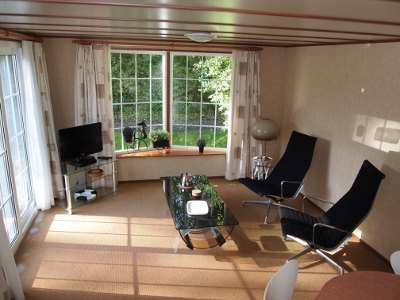 On camping Ekenstein is a chalet for hire.The chalet is all year round to rent for a weekend, midweek or week. The chalet is fully equipped for 4 persons and is equipped with two bedrooms, one room with a fixed double bed and one room with two single beds, a separate bathroom with a shower cabinet, wash table and toilet, living room with gas fireplace and tv, kitchen with fridge, gas stove, coffee maker. Bed linen is required to rent.For kitchen linen should you choose to bring their own. Pets and smoking are not allowed.